If you're reading this, you've probably discovered that writing a good App Description can be hard!
There are really 3 things you want your app store description to do:
Convert
Convert
Convert
This post will explain the 5 secrets on how to write an app description that actually converts!
This is the first of 3 posts that I will be writing on the App Store that will cover your App Store presence and how to get people to actually download your app after seeing it in the store.
First of all, I wanted to say that I am going to be presenting the 5 secrets of an app description that I have personally found that actually lead to more users downloading an app. I will be teaching by example of apps that have all received millions of downloads or have been ranked in the top charts.
1.  Social Proof
One of the best ways to persuade new users to download your app is to tell them about all the other people currently using it. Hearing about others using it makes it psychologically much easier to believe that the app is really good.
Here are some good examples of what I am talking about:
"Over 3,000,000 people trust Private Photo Vault to keep their photos hidden.

Top 100 Photography App in USA, Korea, Japan, Taiwan, India, Italy, Finland, UK, South Africa, Egypt, Mexico, Malaysia, Australia, Hong Kong, France, Ireland, Germany and many more countries."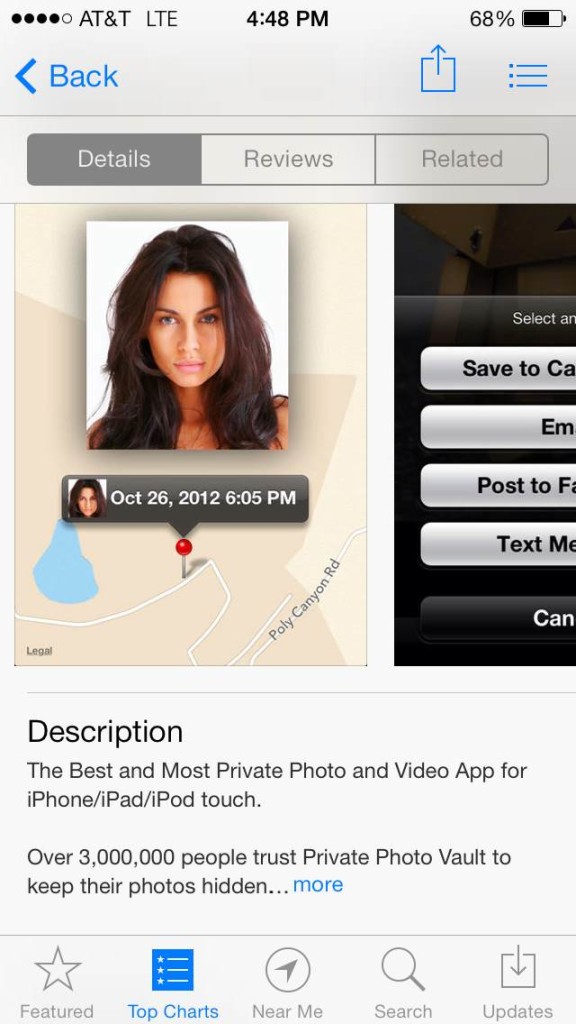 "#1 Top Paid App on the App Store

Downloaded and used by millions including Starbucks, ABCFamily, UFC, A-list celebrities, teachers, bloggers (fashion, fitness, food) and Instagrammers ALL around the world."
If you are just launching your app, you won't really have the ability to list all of the other people using this app. You'll want to make sure to add some kind of credibility (see secret 2) in your app description though.
2.  Credibility
Credibility is one of the other key component's to a killer app description. You can apply this technique in a few different ways. The first way is to leverage your own personal/company credibility. If you have had an app that has succeeded in the past, mention that you were the creator of it. The other way to do this is to mention other reputable organizations that have used your app that are really loving it.
Here is an example of the credibility technique:
"• Facetune, the best-seller iPhone app, is finally available for iPad, all dressed up and ready for iOS 7!
• Chosen by Apple as the #1 best new app!

…..

Praises about Facetune:
• "One of the Most Powerful Mobile Apps I have Ever Encountered… Facetune Can Truly Be Called Magical." – Hillel Fuld, Huffington Post
• "I am extremely impressed with Facetune… and it's way underpriced. Get it now." – Leanna Lofte, iMore
• "a light touch goes a long way" – Liz Gannes, AllThingsD
• "Facetune puts Photoshop-like retouching capabilities at the fingertips of the masses." – Victoria Taylor, New York Daily News
• "It's difficult to overstate just how incredibly easy it is to completely transform an image…to something which looks like it belongs in a fashion magazine." – Chris Armstrong, The Industry"
If we take a look into this description, they are really nailing the credibility component of the app description. First, they mention the success of their iPhone app, which takes advantage of both credibility and social proof. Then they go on to site numerous reputable organizations that are completely praising the app.
The other technique you can use to generate credibility is list the reviews of actual users in the app description itself! This is as simple as going to the review section of your app and copying and pasting a few reviews.
Here is an example of using user reviews in an app description:
""..Clearly the best app around! It doesn't diminish pic quality like other apps. Highly recommend this app." 
- Red Sun Multimedia

"..Now I can post full-sized photos without cutting off important parts of the photo. Great!!" 
- Fiona L. "
3.  Exclusive Offer
The exclusive offer is one of the most powerful ways to drive additional downloads. By exclusive offers, I am referring to having a promotion such as "50% off for a limited time".  The advantage of putting a sentence like this in the app description is that it plants the idea of scarcity in the potential user's mind. This increases the chance of a user acting right when they see it.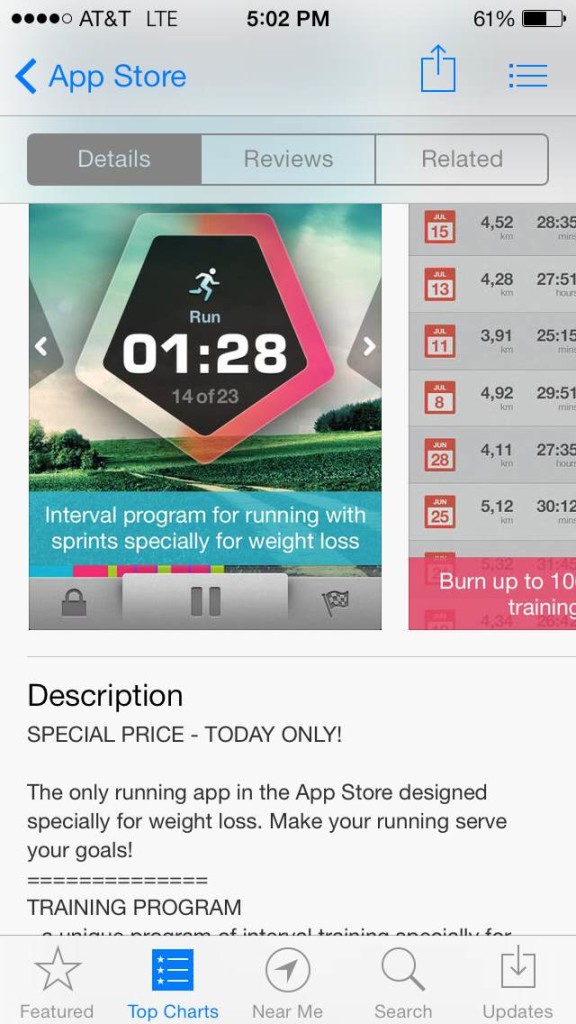 Warning: 
I have seen numerous companies and developers make false claims about the sales that they are having and leaving their supposed 50% off offers up indefinitely. By keeping this sale up indefinitely,
these companies are losing the trust of their customers
. If one of their customers comes back after a few weeks and sees the sale is still going, they will feel scammed and won't be likely to buy an app from you again.
Now, I personally never have fake sales. If I have a promotion, I even say the date that it is going to end. By saying the date that the sale is ending, people know that you aren't just trying to trick them into the sale. Having real sales and honoring when they end is crucial to developing trust with your users.
4.  Feature Breakdown
This one may seem obvious, but having a feature list in the app description is really essential for teaching the user about your app.  After analyzing the style of most of the successful apps in the App Store, I found a general style that emerges from the successful apps.
The secret is to split your features into a bunch of different categories. An easy way to differentiate between a category and a feature is by putting the category title in all caps.
Here is an example of this in action: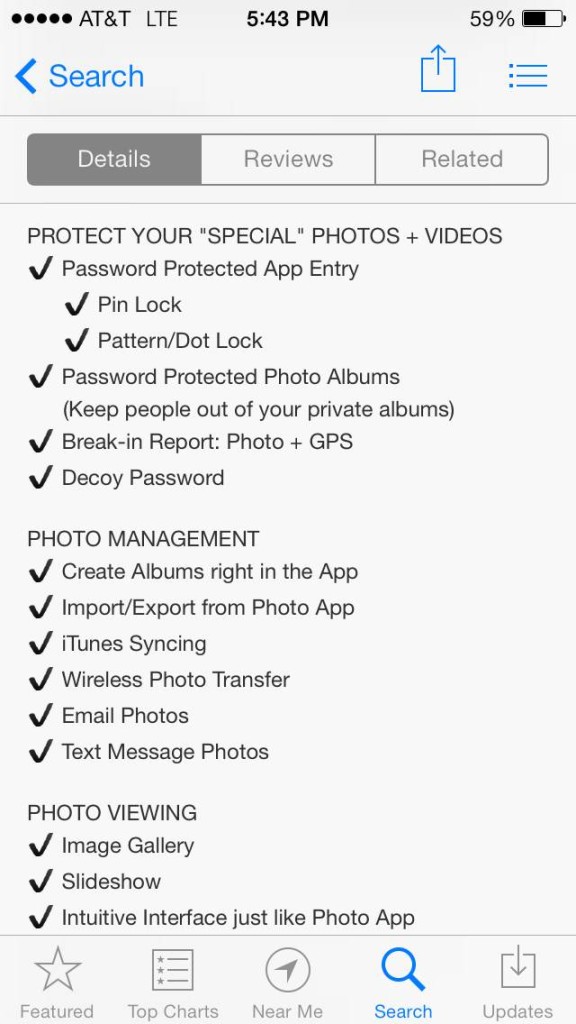 Here's an amazing secret that most people don't know. 
If you try and indent using tabs or by putting spaces in your App Store description, it won't work. There is a trick to allow you to indent your lines though. It is called a
non-breaking space
. You can insert a non-breaking space by pressing Alt+space on a mac and check out the
wiki link
to see how to do it on Windows.
5.  Mystery
Now, the Mystery is actually an entirely different kind of app description altogether. It is extremely short and is generally there just to pique the curiosity of the user. This strategy generally works the best on free apps where you just want the user to download the app.
I have personally employed this strategy on a a free app that I have never done any marketing on and it continues to drive downloads on a daily basis.
Here is an excellent example of this:
"Dots is a game about connecting" – Dots: A Game about Connecting
Dots no longer uses this strategy, but when it was first released to the App Store, that was the entire app description. Dots then became the number 1 downloaded free app in the United States. I remember when I saw that description, I personally downloaded it just out of curiosity.
---
Combining Everything Together
Now you know the core components to a download boosting app description. Here is the strategy that you can use to bring all these components into a smooth and highly converting app description.
In the first line or two of the app description, the purpose of the app is briefly described. If you have a utility app, this line should list the problem that the app is solving. This is generally followed by the Exclusive Offer, Social Proof, and Credibility. Feel free to alter the order on those 3 and doing some split testing to see what works the best for your app. Next pound in the Features Breakdown with a series of Categories and  features in each of the categories.
---
When the app description really counts
Discovery
Users will find your app in a variety of ways: app store searching, advertising, or a friend's recommendation. If it is a friend's recommendation, your potential new user will be more likely to download the app without even reading the description. However, if the app is discovered through advertising or app store searching, they are likely to try and find as much information as possible before they download it.
Paid vs Free
There is also a huge difference between convincing someone to download a free app vs a paid app. Users are much more likely to research a paid app via reading the entire app description and viewing all the screenshots than a user downloading a free app.
---
What to do now?
When you are crafting your next app description or updating your current description for the App Store, Google Play, or Amazon's App Store, I highly recommend referring back to this list to make sure you are maximizing the amount of installs you are getting.
---
If you think this article is missing anything about app descriptions, leave a comment below. I'd love to hear your thoughts!
Also, if you like this article, make sure to subscribe to receive updates from my blog. I will be publishing some great App Store marketing guidelines.