If you haven't heard, the latest bird game to hit the top of the App Store is Flappy Bird.  I saw this game at #1 for numerous days in a row and had to figure out what was going on.  One guy even goes as far as to say that the developer is using bots to fuel all the downloads for the app.  He just doesn't understand the mechanism that is fueling this extremely rapid growth.
Here is one of the latest charts showing Flappy Bird's crazy growth. After months of nearly no downloads, it jumped and out of nowhere surged to the top of the App Store.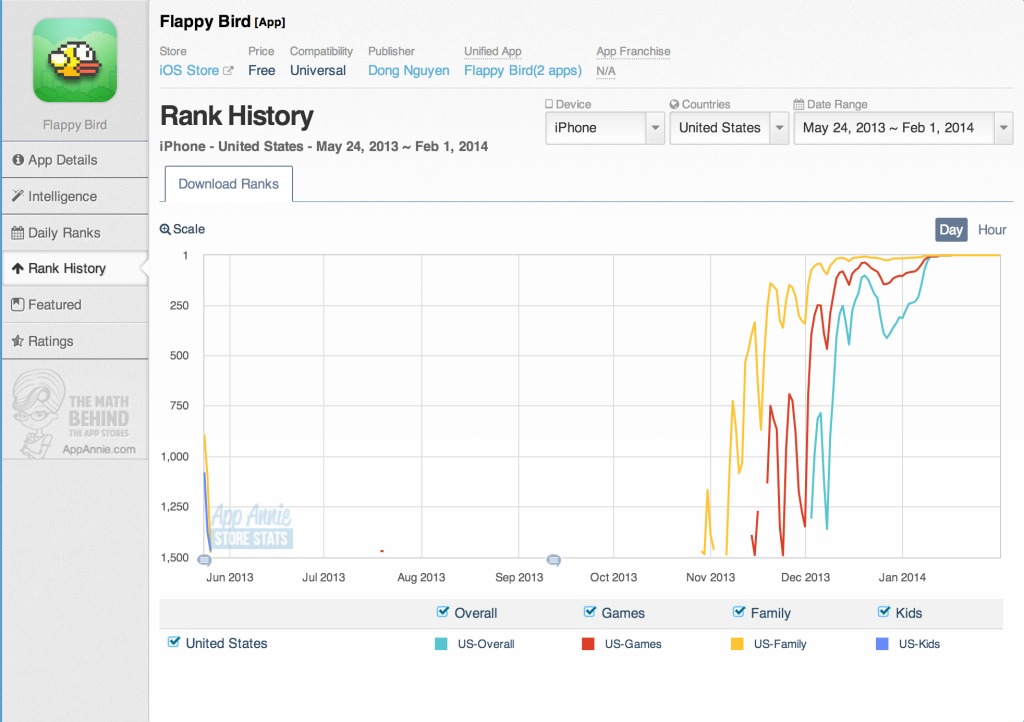 What Flappy Bird is NOT doing
Ad Spend - According to the developer, he has spent no money on any advertising for Flappy Bird.  Many of the top games in the App Store such as Candy Crush or Clash of Clans have a 5 or 6 figure daily advertising budget.
Cross-Promotion – Flappy Bird is doing no cross-promotion with other successful apps in the App Store.  One technique of driving growth for apps is to link to other companies apps and they link back to you in turn growing both of your user bases. Flappy Bird doesn't do this.
Social Sharing Buttons - Flappy bird does not employ any sharing features within the app itself.
Marketing of any kind – According to the developer, he just got "lucky".  Well, lucky is good and all but it doesn't help other developers to figure out how they can replicate these techniques and make more money.
So why is Flappy Bird #1 in the App Store??
Alright, so to explain how Flappy Bird has had such unbelievable growth in the past few months, you need to understand a bit about [...]